High Elevation Arabica Coffee, Superfoods And Adaptogenic Herbs For Better Energy Flow And Human Performance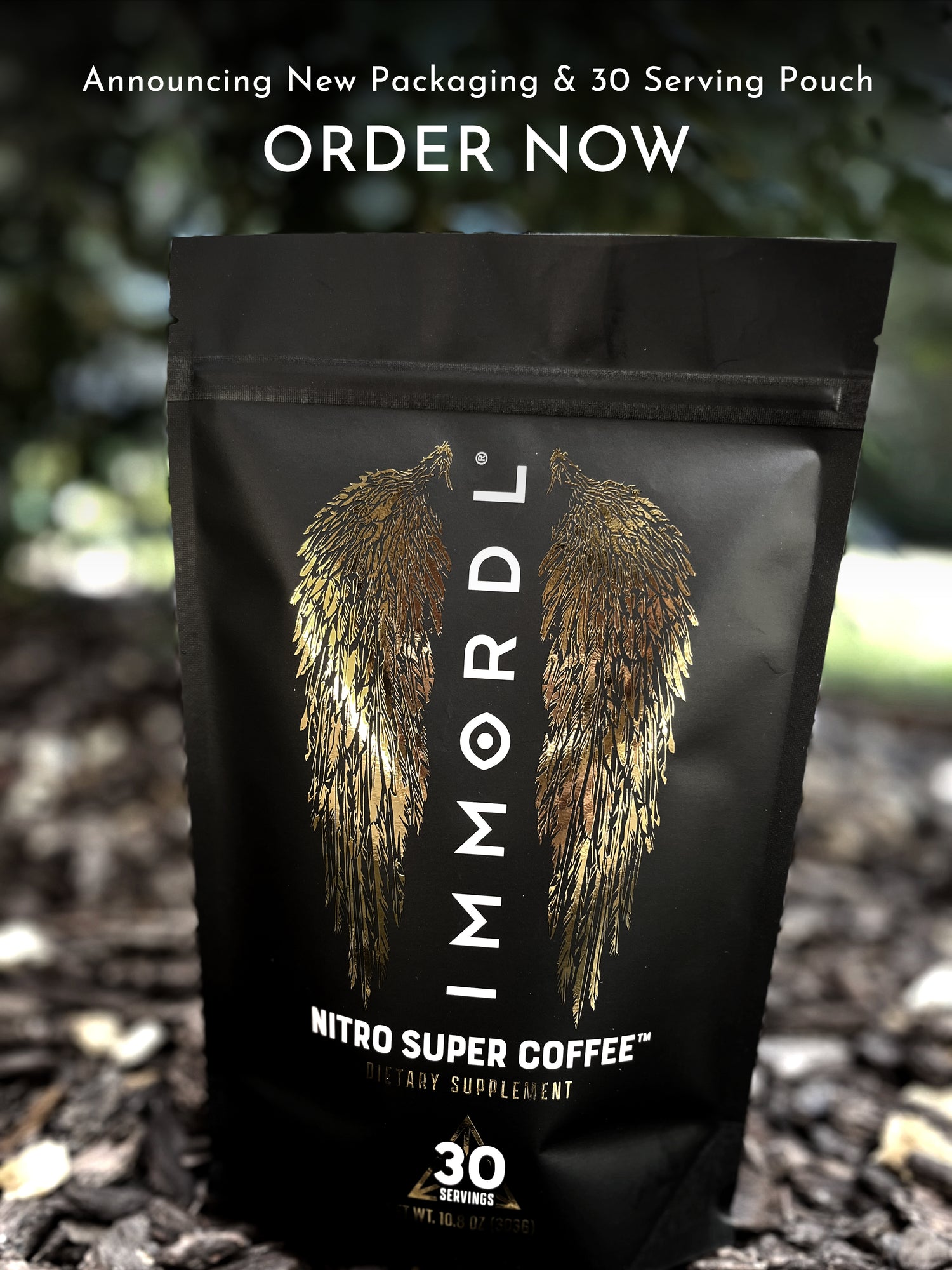 IMMORDL Nitro Super Coffee is the most powerful blend of Adaptogenic herbs, superfoods and coconut based SuperPowders - Maca, Rhodiola Rosea, Mucuna Prurien, MCT's & Nitrosigine®
Known to Promote Better Blood Flow 
Energizes and Revitalizes 
Natures Time Released Energy / No Jitters or Crash 
Plant-based, Vegan, Low Glycemic, Zero Trans Fat and Paleo-Certified
Each sustainable pouch includes 30 servings. 
ADD TO CART
Nitro Super Coffee™ - 10 Servings
Regular price

Sale price

$22.88
10 Single Serving Pouches 
NITRO SUPER COFFEE   |  100% ORGANIC ARABICA COFFEE | SUPER-FOOD MIX  |  COCONUT POWDER BASE   |   VEGAN & PALEO CERTIFIED
Shipping information

Free Shipping when you select no Retail Box. We reduce the amount of paper and weight. Standard Shipping is 3 - 4 business days between major metro areas.
It's what's inside that counts.
We have formulated the finest Herbs & Adaptogens for energy flow and human performance. 
IMMORDL is on a mission is to raise good vibes (energy levels), awaken the mind, and open our hearts to be better human beings - Reach Higher. Be IMMORDL.
Maca is an adaptogen and a superfood.

A root only found in the highest elevations of the

Peruvian Andes used for centuries to boost energy and stamina.

Mucuna pruriens is a plant known to strengthen, tone,

and support healthy energy.

Rhodiola rosea, a powerful adaptogenic herb

that enhances mood, mental focus, and reduces fatigue.
What People Are Saying


IMMORDL is Liquid Luxury!

New York Times
You can do anything you set your mind to doing and I wake up feeling IMMORDL every morning!

Phil Muscarella, CrossFit Athlete
At 60 years old I need every athletic advantage I can get. IMMORDL Nitro Super Coffee is a vital part of my daily regimen. Turning back the clock every day!

Rob Miller